Nashville has had touches of Spring (and even Summer) the last month and it has me so excited for patio season. That time of year when you want to open the windows and doors and let the smell of fresh air into your house, when you get to sit outside and bask in the sun after hibernating for months. It's the best!
And ever since we moved into our home here in Nashville I have come to appreciate the important of a well styled porch or patio. And not just that it looks good, which is obviously of utmost importance, but that it is also functional and can withstand the elements. For us, those elements tend to be heat and sun, as our porch and patio get direct sunlight until about 3-4:00 in the afternoon. So I knew we needed something that wouldn't get hot to the touch, that it came with covers, and a dining table that had an umbrella spot. My husband wasn't as keen on that last part but, shocker, it's been the most essential part to that dining area.
So before you pull the trigger on any furniture, make sure you think about the elements, the use and the flow you want for your porch or patio.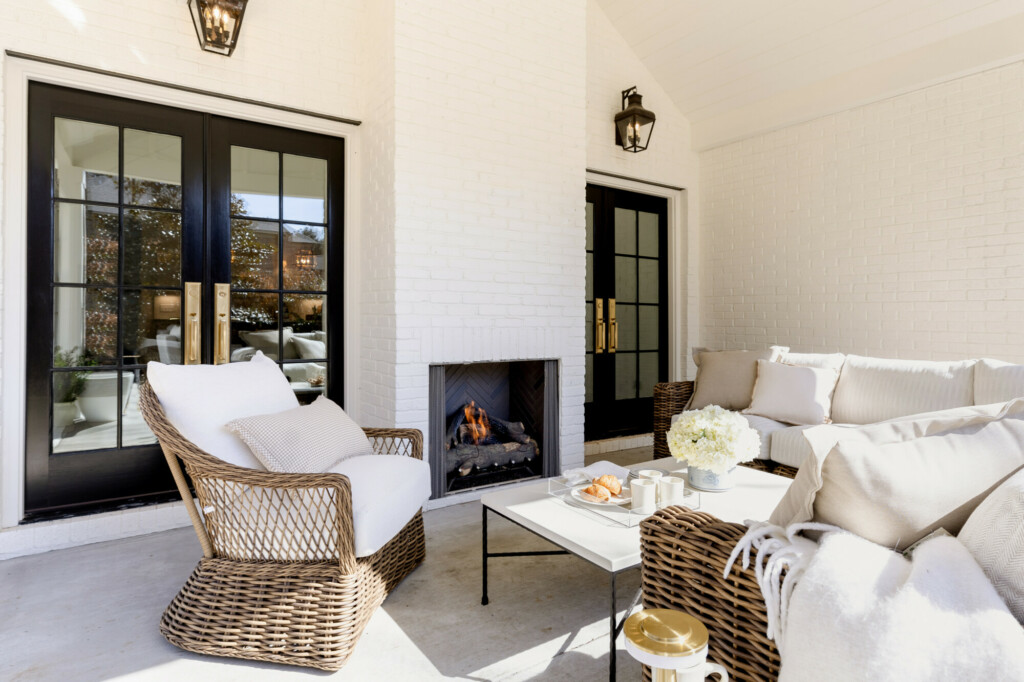 If you have a fireplace, centering the furniture around that area is a good place to start. Whether it's a fire pit or a built-in fireplace, you can find a great seating arrangement to enjoy your company and the fire on a chilly Spring evening. But I've included some great fire pits below if you're not of a mind to build a structure and want to be able to move it in and out as well. That's what we did at our home in Minneapolis where we had a small 10 x 10 sitting area but wanted to enjoy a fire occasionally.
But the one thing that I will always preach when it comes to making your porch and patio feel like an extension of your home is to focus on the finishing touches. I'm talking the color of the cushions, the pillows, and even adding a side table with planters or lanterns for an added touch. You put so much work and money into the interior of your home, you don't want the style to go downhill the second you step outside! So let that style flow out to your patio with some of the great finds below.