This is my favorite time of year! Well, pretty much any time that I can sit outside or do things outside = my favorite time of year! And I will find any excuse to get outside too, just ask my husband. I love yard work merely because I get to be outside. I will sit on our patio with my coffee and my book first thing in the morning just to be able to be outside for a few hours before it gets too hot in the summer. And last year in particular it was needed. To be able to have a space other than a home office or our living room to spend some time, well, it made the quarantine less constricting.
While I think that people's home improvement projects will remain focused on home offices, gyms, and other functional areas, I think people might be looking at their yards a ton this Summer too! A lot of people might have already done a bunch of interior projects, so with outdoor entertaining becoming more and more possible by the minute, those beautiful patio set-ups are looking a lot more appealing.
I'm personally in the market for a new lounge set up as well as a dining set up! So I've been on the hunt for a bit and found some absolute beautiful combinations. I personally love the mix of light textiles and vibrant materials: like a teak dining table or woven light pendants. I also think that outdoor dining doesn't have to be boring! If you think of mesh dining chairs when you hear "outdoor dining", I'm here to help cure you of that. There is no reason that this space can't be just as chic, elegant and inviting as your indoor dining room.
This is a design concept I put together that I just love. I'm a sucker for natural light pendants, and think that if you have the ability to do so, adding stylish lighting to your outdoor space will elevate it immediately!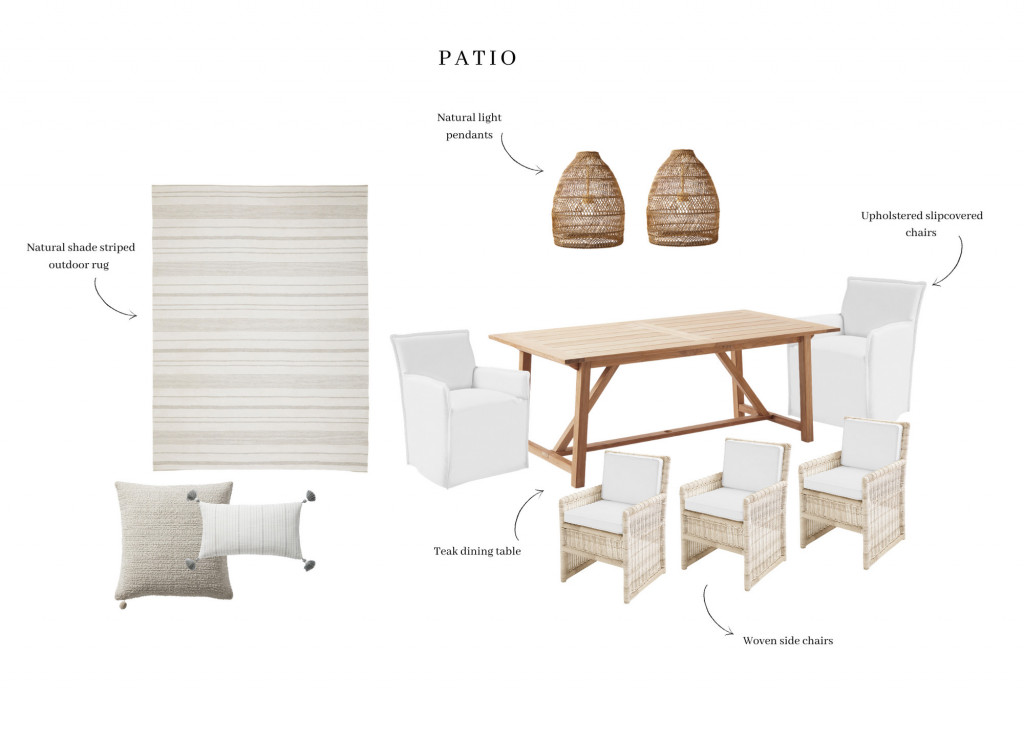 I know what you're thinking: upholstered chairs are bold and/or just silly to put outside! Not when they're slipcovered!! If you are doing any chair in a dining area I URGE you to make it slipcovered. Even inside! Even if it's a performance fabric, to have the ability to remove it from the chair and wash it is huge! Now you have the ability to keep it looking clean and new as well as having a softer look to your dining space. This is also a great opportunity to add in style when you have two different kind of chairs; one at the head of the table and another along the sides. You're going to want them to be complimentary, but just different enough that they can stand out from each other. Like in the concept above, the fabric on the woven side chair's cushions could be the same fabric as the upholstered chairs. Or just making them the same color and you're golden.
Here are some other great outdoor furniture and decor finds that will make your outdoor space, no matter how big or small, seem like an oasis.
SOFA'S

ACCENT CHAIRS

DINING

DECOR + MISC.