I cannot tell you how much fun I had with this space. I know I've said it a million times already but I love designing utility areas. There is so much character you can get from the finishes, cabinetry, and flooring and it is so much fun putting it together. But beyond it looking nice, these rooms in particular have to be functional, so this post is going to cover the five essentials you need when designing a great mudroom.
I know from personal experience how annoying these spaces can be when they aren't designed well. Ours for example? Just a drop zone, not any closed storage, and completely visible from the living room! So when you hang up your coat, put down your bag, or throw off your shoes, you can see it all. The laundry room? The door opens inward covering up over half of the cabinetry. It's so annoying.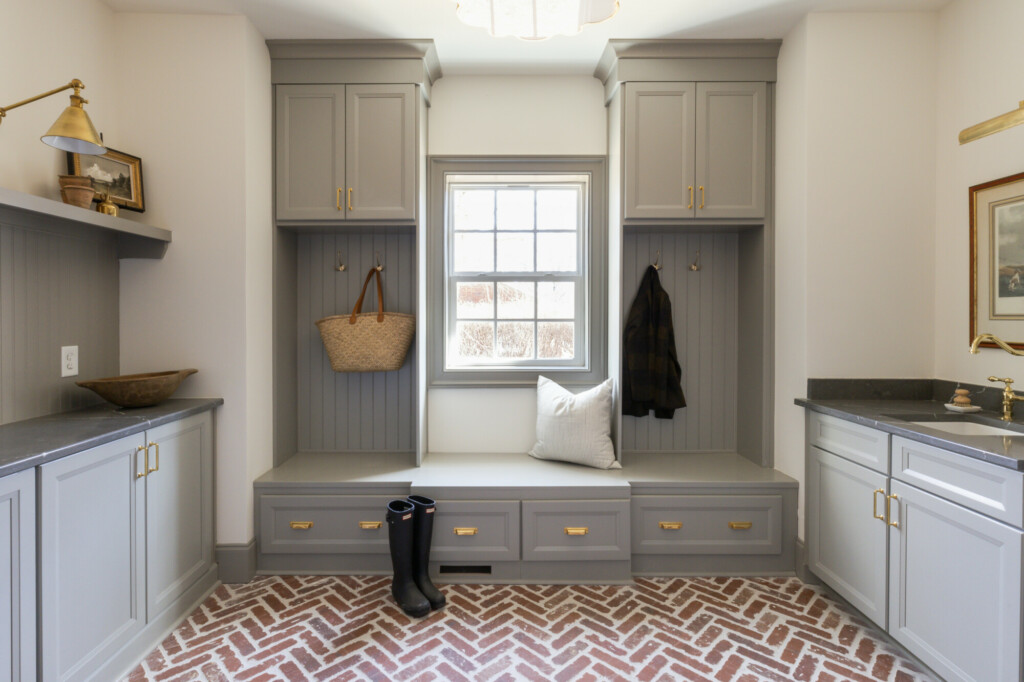 We had plenty of space to work with at Haverford Manor so I was lucky enough to have plenty of room to get creative as well as to fit all the essentials
1. SHOE STORAGE
I don't think having open storage below the lockers is an awful idea, that's what we have and I fit large baskets but it is a little messier. Having closed drawer storage for shoes keeps things much tidier.
2. COAT HOOKS
Having a spot to hang your bags and your everyday coats is a no brained and the easiest thing to incorporate. But one thing that people don't think about is tall coat storage. If you can't put it in the mudroom itself, try and put it close by. If you're anything like me you have coats of all kinds of lengths and you don't want to have to walk all around your house to get them every time you want to wear them.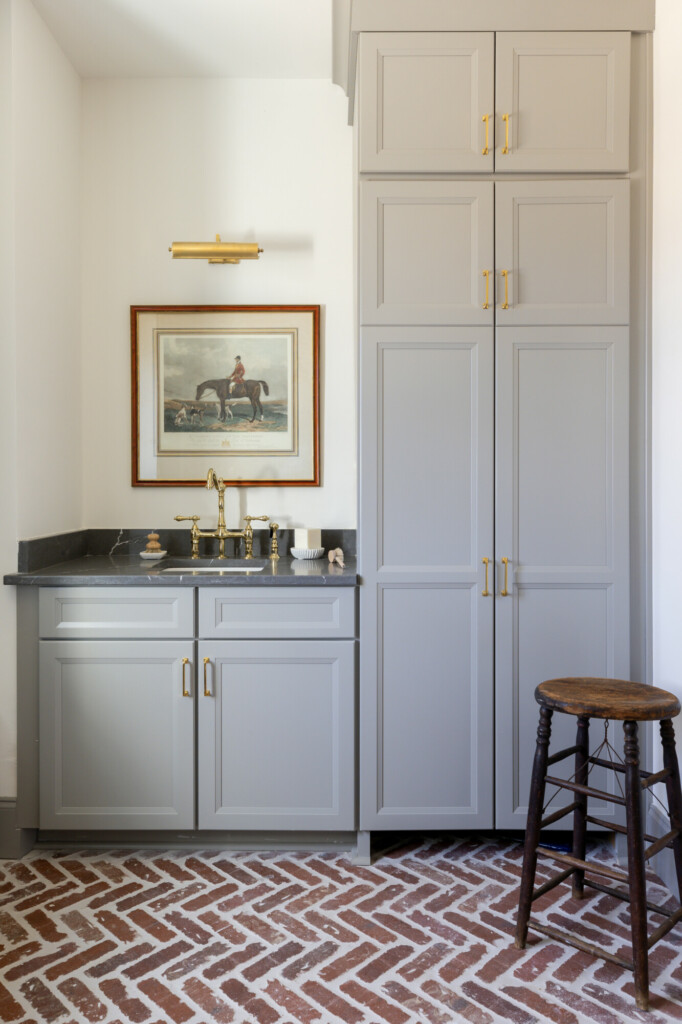 3. DURABLE FLOORING
And no, durable tile doesn't have to be boring! These herringbone brick panels were a huge hit and to be honest they looked even more beautiful when they were installed + grouted. We went with an over grouted look to really play up the rustic vibe. But most importantly, we sealed them first. You want to make sure that they are styles that are easy to clean but also can handle when you are stomping around in your boots, or when your kids drop their bag of sport equipment.
4. A SLOP SINK
For me, this is an essential. I think that to have a spot to clean gardening equipment, shoes, or maybe even your kids craft stuff!
5. COUNTER SPACE
This one is definitely a luxury, but I do find it helpful. It can serve as a drop zone to store your keys or drop your mail even if it's just a little extra space next to your sink. We were also lucky enough to have the space for an entire separate drop zone right at the back door of Haverford Manor so that's where they will drop their keys. But I would kill for the separate counter space in the mudroom to go through the mail, or maybe store all the returns that we constantly pack up.
If you're looking for a design consultation on your own mudroom design, book a consultation or a discovery call to chat through your space! Our virtual design services can put all of the room finishes together and help plan out your cabinetry design with your cabinet vendor. We're here to help!