The plans for Woodvale Manor are officially here!! And we've even already submitted for permits so we are well on our way with Woodvale Manor.
I'm really excited about these plans because while we had an architect help us with the final drawings, they were off of my initial designs, so seeing these ideas come to life will be so gratifying. While Haverford Manor had such a workable first floor plan, this was a little trickier, but I think we made the best of it. Adding a good 2,000 feet of livable square footage to the footprint, we were able to get a great flow from the garage to the mudroom to the kitchen and living area. Because I loved the flow from Haverford Manor so much with the easy access to the pantry from the garage, that I incorporated a similar concept in this house.
With a large mudroom right off the garage, and immediate access into the kitchen, we had enough room to add an opening into the pantry as well. So instead of walking the groceries all around the kitchen to access the pantry, it's right there off of the garage for a quick drop off!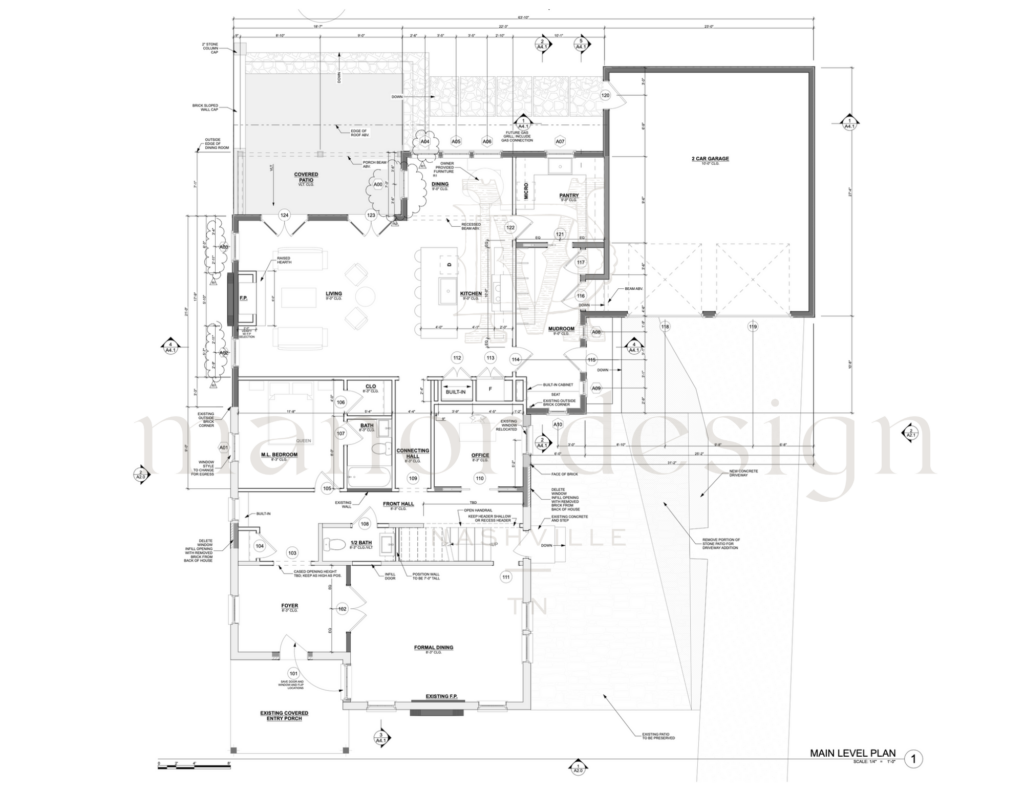 A fun detail about upstairs is that the front two existing bedrooms are going to stay as is! Well, kind of. One is going to get a little bigger, and they are both getting en suite bathrooms. Then we have a super private "guest wing" as I like to call it, which is a large guest room with an en suite bathroom and walk-in closet above the garage. It's super private because you have to walk around the hallway to access it. With that and the primary bedroom with vaulted ceilings and walk-in closet, this house is turning into a 5 bedroom, 5.5 bath!
Not bad…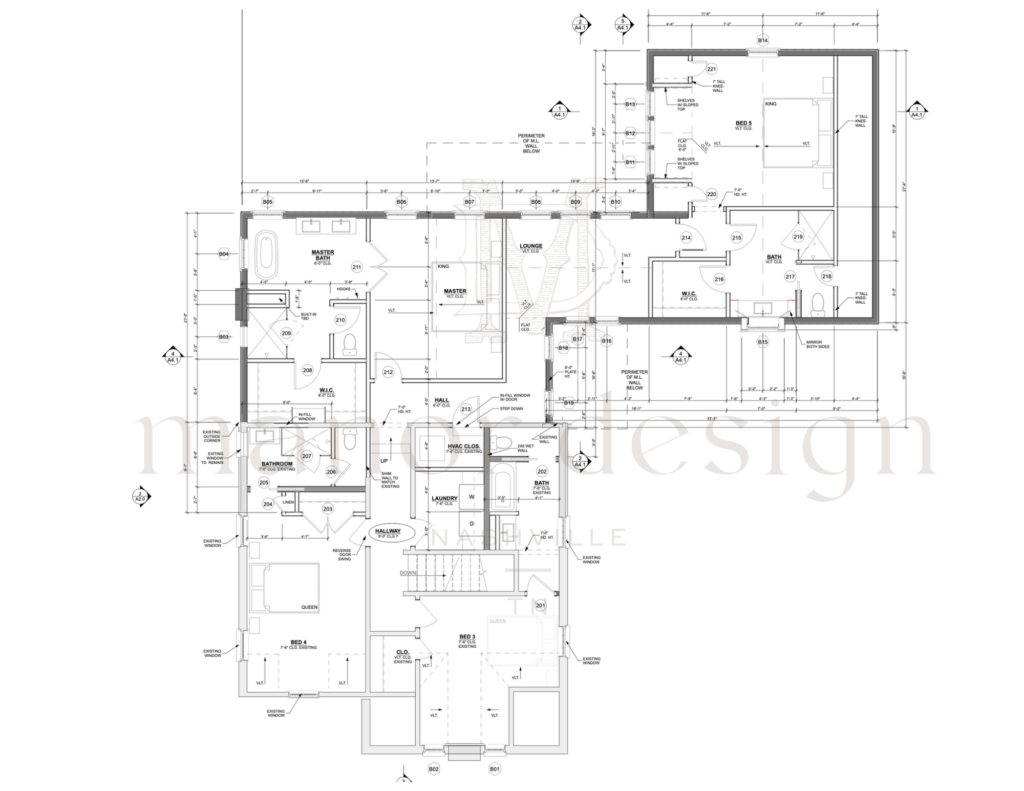 A few of my favorite details?
– the nook in the kitchen was super intentional, not only did the bump out in the footprint allow for a much bigger pantry too, but having a little sitting area for every day was a must-have and I'm so excited we were able to fit it!
– the dedicated office is small, but the perfect size for a desk and chairs. Plus we are going to include some built-ins on both sides of the pocket doors for some storage + character.
– the bathroom in the guest wing has the vanity in front of the mirror and I'm actually super excited about that. We'll be able to fit to sinks in that vanity and for a touch of character + function I'll get pivoting mirrors to put on the walls. So what might look like a bad idea on paper is actually going to turn into a unique design moment.
Ready for the really exciting part? Here is your exclusive look at the 3D rendering of the exterior. I'm so glad I did this to be able to visualize the outside, not only did it help with finishes and colors but it also is an amazing resource to reference in the coming construction months.
Plus, it's like, really exciting!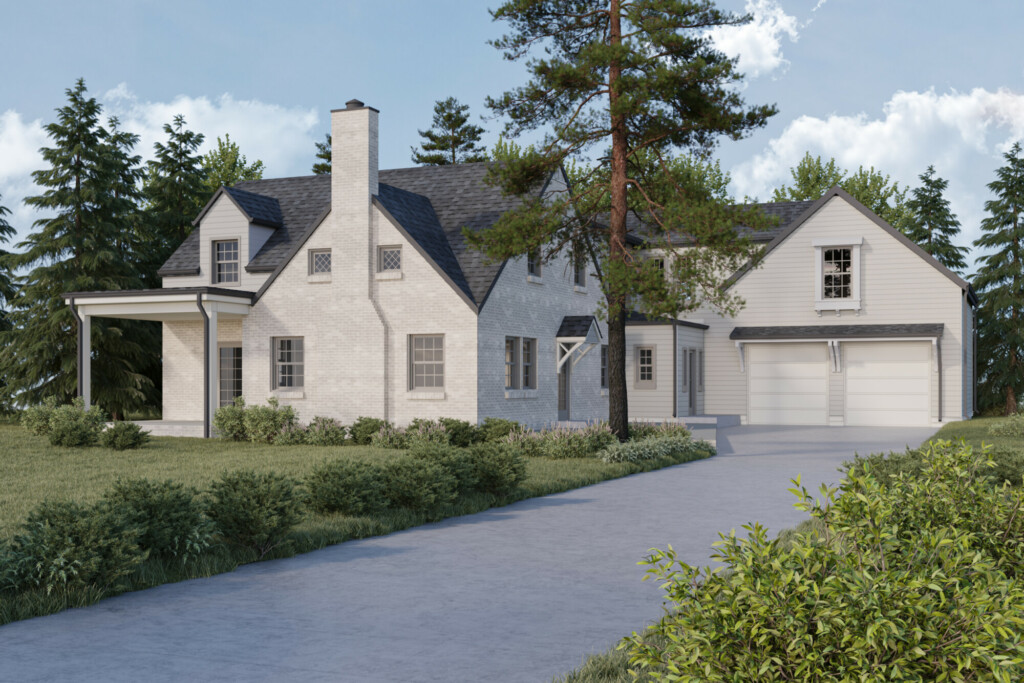 And don't worry, we aren't losing the courtyard! That sloped brick half wall is still there, and the fence line will get a bit of an upgrade but there will still be a beautiful little courtyard off that side entrance. And I've even brought that slope detail into the back porch as well! Adding a beautiful punch of style to what could have been a simple back porch. Not that there was anything wrong with the original screened-in porch, but now we'll have a covered sitting area with an extended uncovered patio with stairs leading to a walkway to the garage + rough-in for a grill!
Stay tuned on social media for concepts and designs coming soon!