We have tons of shelves in our living room, like, tons! Which is great and so much fun but is also a design challenge. A few bookshelves are great, but have a bunch and you have to find a good balance. I was looking back at old pictures I took of when the previous owners lived there to see if I liked how they styled it. They had too many objects; meaning vases, jars, and boxes. That's kind of all that was on display. Don't get me wrong, I love a good vase and adore decorative boxes, but when that's all you have on your shelves it can look more like storage than intentionally decorative.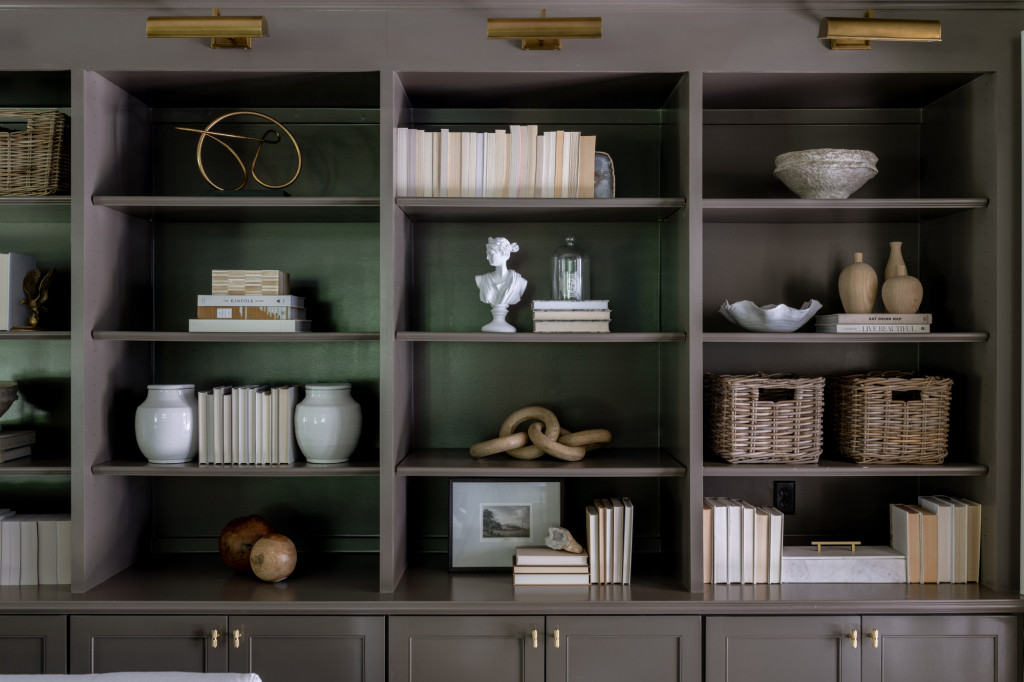 BASKETS  |  SIMILAR WOOD LINKS  |  WHITE JARS  |  BUST  |  CLOCHE  |  PAPER MAICHE BOWL  |  BONE BOX  |  PORTRAIT LIGHTS
I used tons of books to break of the monotony of objects as well as to lighten up the space. The color is a lighter version of urbane bronze so it's pretty dark already. So I used old paperback books, turned them around, and did three shelves allllll books. I love how it turned out, and I loved that I got to put my old reads to good use! This is a much simpler way to display books, you don't have to worry about titles, or colors of the binding, and the variation of paper colors gives nice dimension. It's subtle, but enough.
Now, this took me months, and I'm still tweaking. Every time my husband catches me looking at the shelves he tries to avert my eyes because he knows that I am thinking of was to improve/change them. And you know what? I'm sure even when I absolutely love them I'll find antique favorites that I'll want to incorporate which is such a fun way to subtly change your room.
BUST  | CLOCHE |  EAT DRINK NAP  |  LIVE BEAUTIFUL  | BASKETS  |  SIMILAR WOOD JARS
A shelf styling trick? The triangle method. Put similar items at each point of a triangle, so if you have three white jars? Spread them out a bit at those three points. It might take some moving around a bit and trying things out but it helps bring balance to the shelves without being monotonous.
I stuck with neutrals because we had so many shelves. I didn't want to try and include pops of color because to do that consistently would be pretty tough with this many shelves. Plus, I'm just a sucker for neutrals anyway 😀 I also spread out the different finishes. There aren't a lot, but I have a few pops of brass with the bookends and objects, and then those vintage trophies that I love so much. But spreading those out helps to keep anything from clumping up too much. But by adding finishes like that those can serve as your pops of color.
But one of my favorite parts about these shelves is how many unique items there are! I have been collecting goodies from antique shops since last Spring and I think it really paid off. That's a great way to get a unique and chic look going in your home that no one can truly replicate because you can't find these items from your regular retailers. As long as you know what your overall look and theme is you can hone in on your search. Things will come together over time and you will be able to mix in other staples like books and vases to keep it from feeling too "old".
SOME OTHER GREAT FINDS