I have a dream of one day having a home that has several raised beds, a little shed and connected sitting area covered in cafe lights, centered around a fire pit. But until then, I have made my own little garden without any construction or yard landscaping and I am actually really happy with it and enjoying it so much.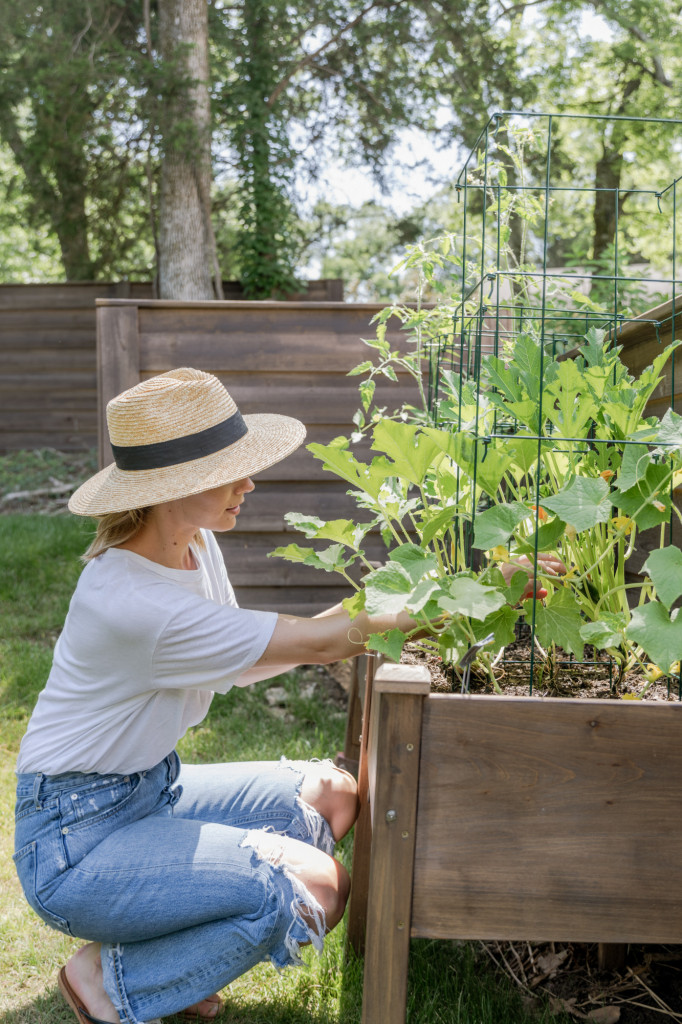 Our yard is very difficult when it comes to adding anything to it because it slopes on a decline quite aggressively, so finding a level area is, well, not as easy as you'd think. I was walking around trying to find the right spot that has sunlight and that I might be able to stabilize it and decided to use our new fence to my advantage. We had this fence put in last Summer and added the gate at the end of driveway soon after. I wanted the raised bed to blend so I stained it it to match.
My green thumb is kind of faded and not all that strong, so I enlisted loads of help from my mom and did loads of research. But this book was by far the single best purchase I made when it came to this little garden. Veg In One Bed broke down each vegetable in such a helpful and informative way but the best part? It broke down the whole garden bed by month! That means I didn't have to compile all of the info on the vegetables into a calendar, because it was already done for me. It was so easy to follow and they gave so many sustainable and cute tips that made me feel like I was an expert in no time.
I still have loads to learn but absolutely love having a little version of my dream garden to enjoy. It's been a great way to learn through trial and error without making any huge dents in our yard. But, I'm hoping that I feel confident enough next Spring and I find the right place in our yard that I'll have a bigger + better set up.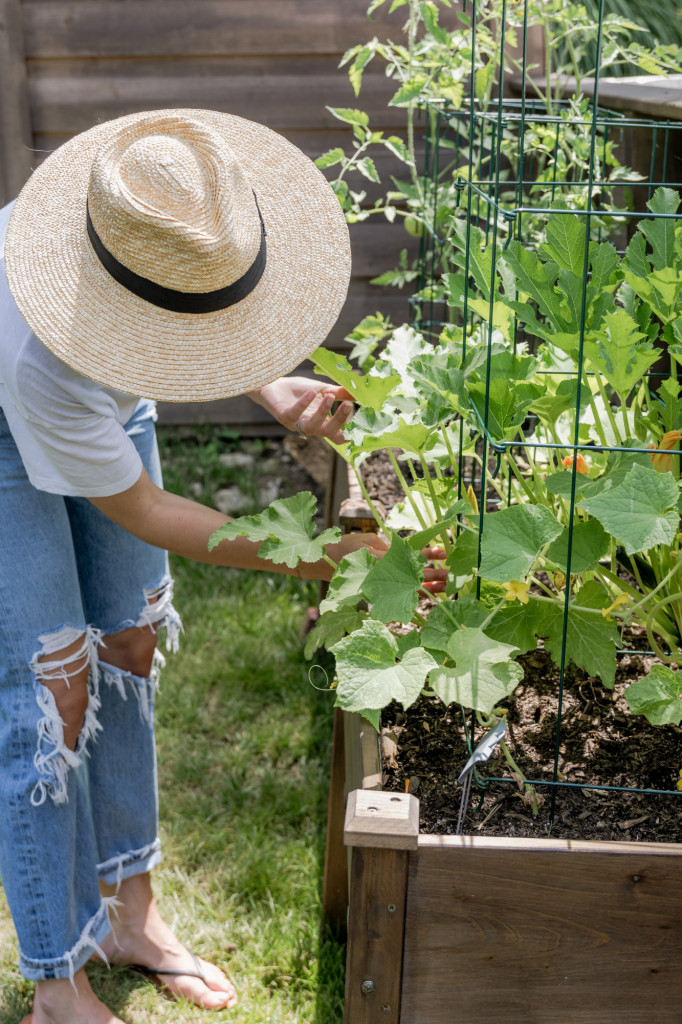 SOME ESSENTIALS + FINDS

What did I plant this Spring?
In one planter:
beefsteak tomatoes
Sweet Treat cherry tomatoes
Sugar Snap Peas
Italian Bush Beans
Tricolored Zucchini Squash
Cucumbers
In another planter:
sweet peppers
Spanish Onions
Heirloom Carrots
Crispy French Carrots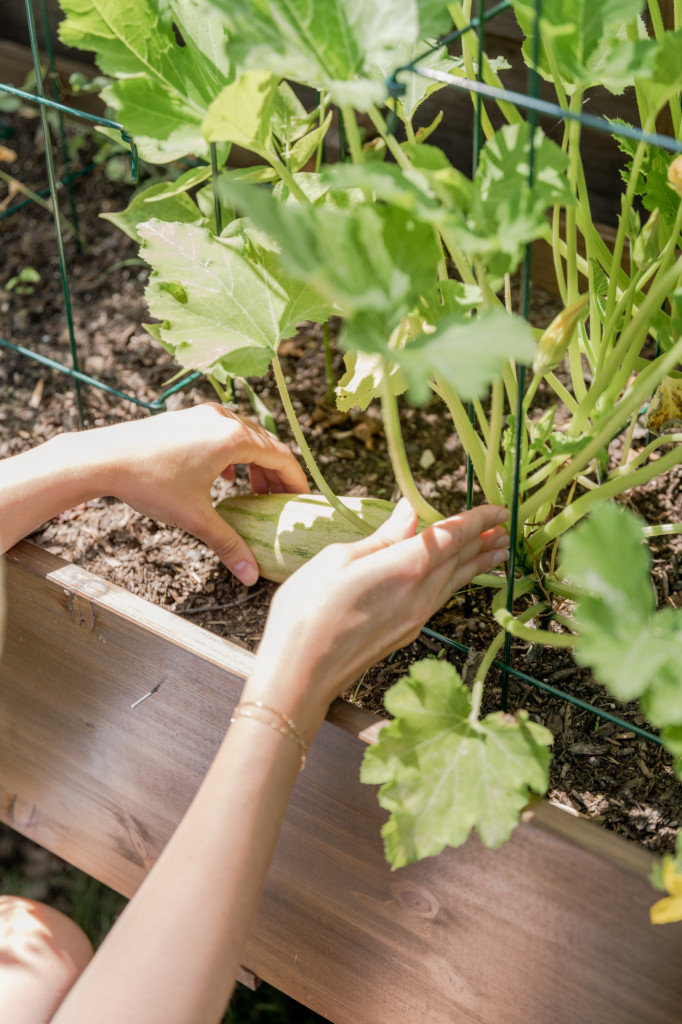 Some quick lessons that I've learned so far?
Pay attention to the planting distances on the package! If you won't be able to fit all of the sprouts once you thin them out then you've wasted some good seeds. Make sure to account for the space you need when you spread them out after they have germinated. I really think that I overdid it when it comes to a few of the plants. I have three zucchini plants in my one planter and I think I probably only should have done one. I'm sure I won't get as many veggies out of them because they'll be too crowded.
Research what works well next to each other. Even logistically if two plants need a trellis, figure out the best place to plant them so they can grow tall and healthy and you can use one trellis for both plants. Some veggies even do well in the same garden bed together than others!
Don't be afraid to start sowing seeds inside! I used the cartons that my GoMacro bars come in along with a seed starter mix of soil and a grow light. I had a little set up in our laundry room which helped me to plant the tomatoes and peppers MUCH earlier than I would have been able to otherwise.
Protect the little guys! I used an accelerator to make sure that the ups and downs of Nashville temperatures didn't affect them too badly this March, but I did find that it also protected them from pesky pests. We have loads of squirrels so I actually built functional covers for both of my beds so that once the veggies start to grow I won't have to worry about someone else enjoying them before I do!
If you don't have space, that's no problem! There are tons of veggies that have container-specific seeds that grow best that way. Some kale, lettuce, tomatoes and even cucumbers have great options to put in containers! You don't even have to have the space for a garden bed to be a gardener.
This last one I never even dreamed would be an issue… pollinating! If you don't have enough pollinators (bees) your blossoms might not mature into fruit! And believe it or not, you'll need to help them out. There are in fact male and female blossoms so do your research, grab a tiny paintbrush, and get to pollinating! I actually only started to see vegetables grow once I started to do this.
Want to know a secret? I've actually been spending time this Summer building a bigger garden in our yard. Nothing that is too destructive to the yard, but something bigger that I can reaaaalllly start to get into. I was even able to plant a few seeds last month in them so hopefully I'll have some fun updates this Fall. And speaking of seasons, gardening isn't just for Spring! People forget that there are some plants that do really well in the fall months so you can keep it going! What I'll be planting? Broccoli, Lacinato kale, Brussels sprouts, and replanting carrots too!
Long story short, do your research!! And no, that doesn't mean you have to read a ton of books on gardening, but if you're curious about something, google it! I cannot tell you how many times I have googled the silliest sounding question just to make sure I'm giving my veggies the best chance to grow. And I'm so glad that I did! I've found some amazing tips on this amazing internet of ours 😀