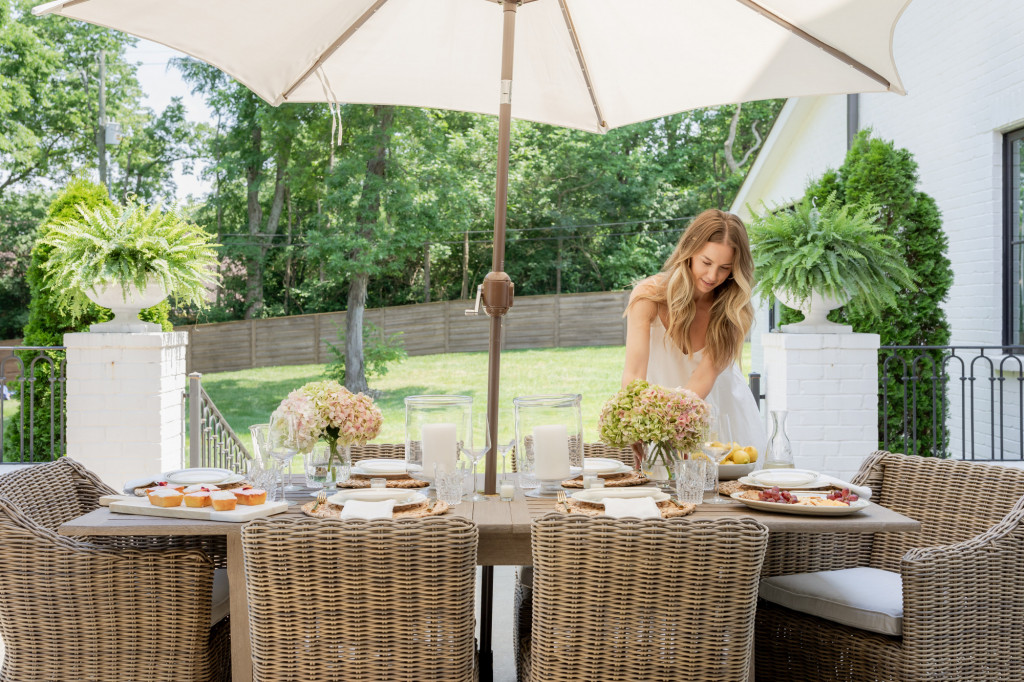 I told my mom and my sister last Fall that I wanted them to come visit in the Spring around Mother's Day. I had this vision of a brunch in our new outdoor space to celebrate them that was full of flowers and food and made for a beautiful and fun morning. I wasn't able to get everyone in town for the holiday but decided to put together a brunch anyway, just to show off our patio!
The biggest requirement I had in our outdoor dining table was that it had a space for an umbrella. This space can get blasted by the sun until the early afternoon and I didn't want to limit the number of meals that we could have out here just because we couldn't have an umbrella. Thank goodness we found one because then we are able to host events like this and sit outside at this table all day long if we'd like!
I'm not gonna lie, I had a huge inspiration board for this brunch because I wanted it to look beautiful and feel so special for my mom and my sister. I knew hydrangeas were going to be the centerpieces and I knew I wanted a tablecloth that felt festive for the season. From there I worked on the side table, which (spoiler alert), is just a folding table with a cloth on it. But I saw this set up from Josh Young and thought this would be a perfect way to set up the food and also add a hint of Springy decor.
Getting a cheap folding table to use as a buffet table is the perfect way to show a little more style as well as hold all of the food + drink. I covered mine with a printed tablecloth and used planters and flowers as accents. I loved this set up so much that when I took it down the whole wall and space felt empty. Now I'm tempted to get an outdoor bar cart to have out here all the time.
When it came to the table setting I wanted to get pieces that would accentuate my outdoor staples but also items I would be able to use all the time out here. I didn't want to get anything special just for this one meal but instead get items that I could add to throughout the years that also go well together. I didn't have any outdoor tableware so this brunch was a great place to start. Brainstorming over how you're going to use a space now and in the future is a great way to make sure that when you're purchasing something, even as small as plates, are going to continue to fit the form and function of the area.
Up next? I'm thinking an al fresco dinner full of candles, cafe lights and cocktails 🙂