This is exactly what I wanted from this space and I'm so thrilled with it. The perfect blend of a dining area to fit the family as well as a lounge area to enjoy some football on the weekends. And with family coming in last week I knew that it was the perfect time to set up a festive fall dining experience.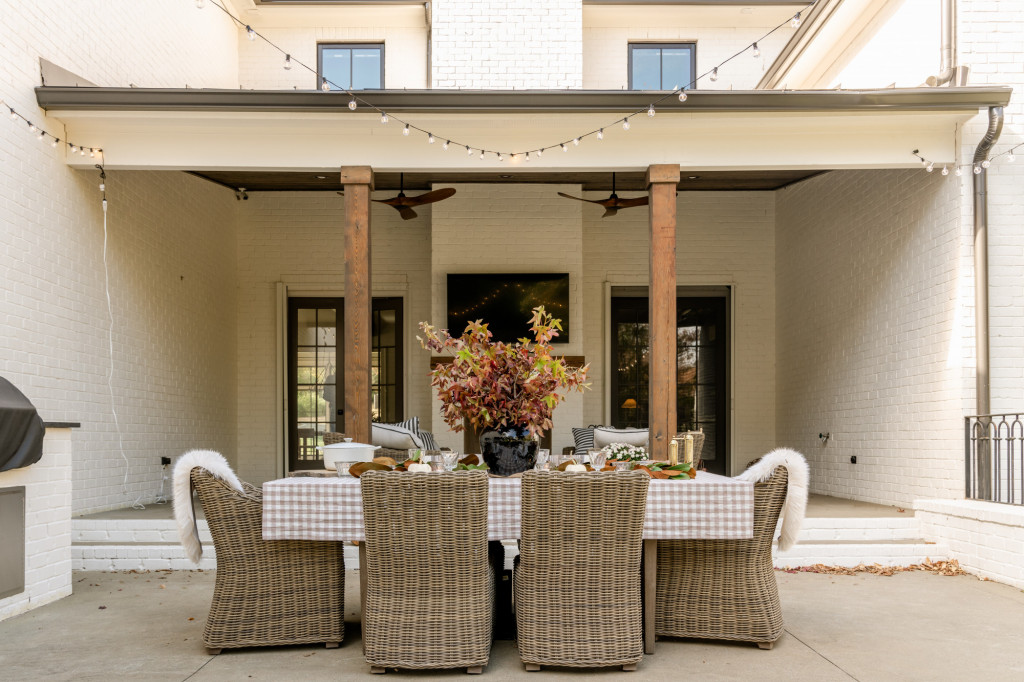 We found the perfect way to hang our new cafe lights without any huge holes or difficulty. I found these extendable light posts that I zip tied to our metal railing so we can take them down at any time! And we found these shatter proof lights which are CRUCIAL! As I speak from experience cleaning up broken glass from the other kinds that break so easily.
And I absolutely love the colors of fall foliage so when I saw these branches at the local flower warehouse I knew they would be the perfect centerpiece. If you don't like them as a centerpiece you could break them up and use them as a runner or in a garland. That's what I did with the extra magnolia from our kitchen centerpiece, I broke them up and placed them throughout the candle jars.
I got these vintage canning jars from one of my favorite vendors and use them as candle holders and it is the perfect touch to the table. I also love Save-On-Crafts for tea lights and pillar candles at a good price. I'm shocked sometimes that they can be so expensive but this is a great source for buying them in good quantities at a lower price. And if you don't want to do much of a table setting, all you need is a good tablecloth and you're set! I love this one from Target because it would work great in the Spring as well, but you know gingham is spot-on-trend for Fall!
You can also use your little pumpkins from your trip to the pumpkin patch for table decor. You can't beat the cute little white ones with long stalks. It makes them look like a cartoon!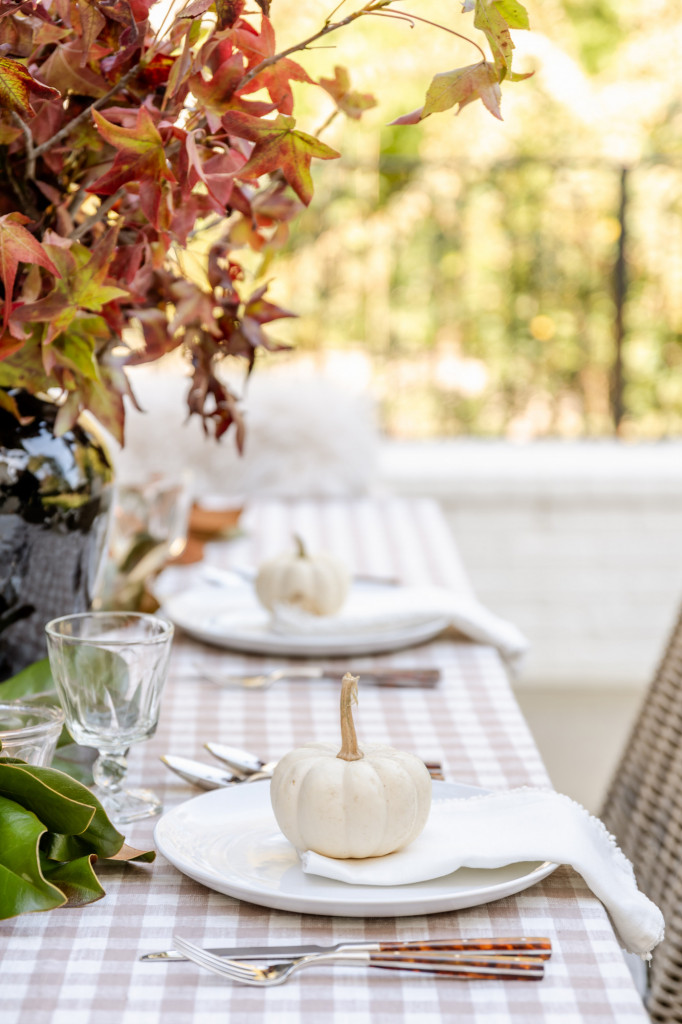 The overall vibe is very different from the Spring Brunch that I set up this year, even down to the glasses. While I love the acrylic ones I used in the Spring, these vintage finds are so fun! That and the tortoise finish of the flatware and it feels like quintessential Fall. That and the fact that we can enjoy the fireplace at the same time, it's kind of hard to beat it. It's moments like these that I am so pleased with the setup of our patio. Even though the spaces are separate and even differentiated by a set of stairs, it still feels so cohesive.
Hosting a cookout? A table set up like this could be so beautiful for a side table! Put out a folding table with a tablecloth and decor with some food and drinks and you are instantly the hostess with the mostest. Check out the links below to get started.