I'm not big on having too much on the kitchen counter, but not enough and your kitchen can feel cold and stark. But having the right accessories and items throughout your kitchen can immediately make it feel more inviting and cozy. I change out our centerpiece seasonally and consider it a crucial part of our main living area decor.
Our living room and kitchen are rather large and are within view of each other so they have to connect with each other while remaining distinct. And while the accessories on the perimeter of our counter remain constant (for the most part), the centerpiece sets the tone for our home since we spend so much time in here.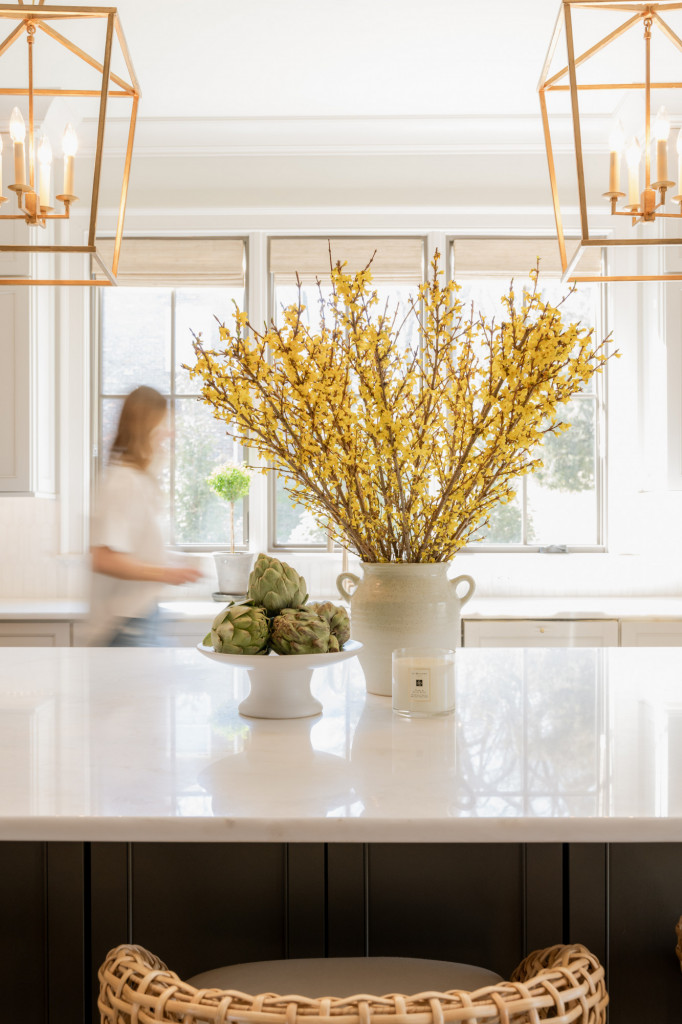 You don't have to buy something new for every season and in fact I highly discourage you from that. But by having 1-2 staple vases and bowls that you interchange throughout the seasons can make all the difference. I love this white combo because it feels fresh and light for Spring but I could easily mix in some magnolia or pears to instantly change it to Fall decor.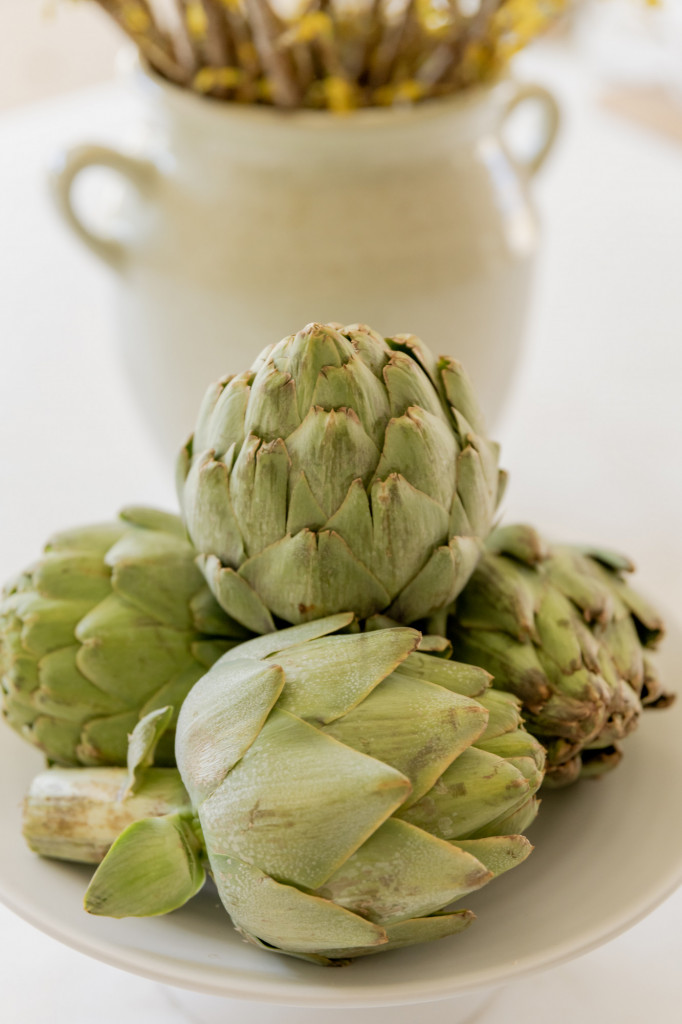 If you feel like the rest of your counter still needs some work, we got you covered! I spent months moving around everything on our counter because I wanted it to feel right, and not like it was something I constantly needed to change. We have white countertops and white backsplash so no accessories would have felt rather cold.
The trick? Have the accessories be things you actually use! You don't have to have things be purely decorative. Your everyday items that you need in the kitchen can act as the decor if you find the right pieces. My staples? Our set of Murchison-Hume hand+dish wash, the myrtle (we call her Meryl :-D), a natural dish scrubber, and a pretty pepper/salt dispenser.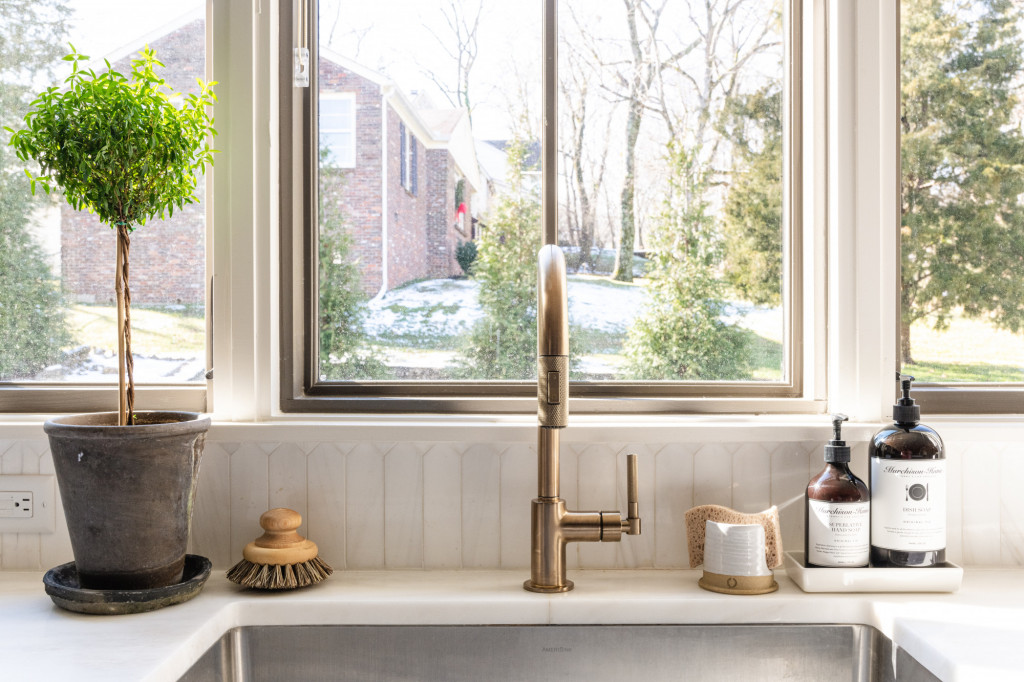 One no-no in my opinion? Faux plants. I know, I know, how bougie of me. But fake plants in the kitchen just don't go well together. The kitchen needs to feel full of life and fresh ingredients and delicious recipes. For me that just doesn't go well with plastic plants. Now, that also doesn't mean you need a florist on speed dial. Have a few pots of fresh herbs that you'll use! I have this beautiful rosemary plant that not only adds height to my decor but also smells delightful. Go for something easy to maintain and hardy, you definitely don't need a green thumb.
You can apply this to the centerpiece. I know fresh flowers/branches can be a pain but it is so worth it, but even in the small bowl going for fruit can be a great way to add more life to your kitchen. This does take diligence to change out the water and keep it feeling fresh, but oh my goodness it is so worth it!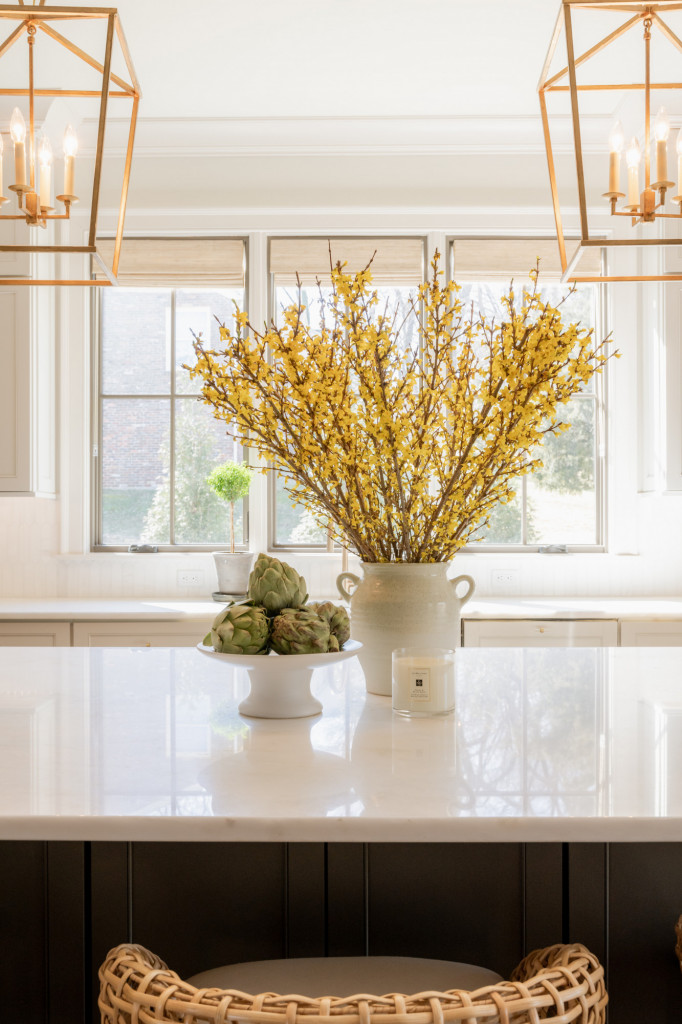 Ready for another trick? If you're hosting, put lemons and limes in the small bowl and use them for cocktails! Easy to grab, and the vibrant color will instantly add a natural pop of decor, without practically any effort on your part. Heck, head to the grocery store or local market and get some pretty olive oil bottles! Personally I put oil on everything and you know that there are some pretty fig balsamic bottles around that will not only add a pop to your counter but also make you look like a chef extraordinaire!