We had many discussions over this space with our architect during the floor plan stages. While he would have preferred to change the footprint to fit the stairs somewhere else to make the entryway a formal dining area, we knew it wasn't in the budget and we didn't want to spend that much money. And I knew that we could get a large enough dining space to fit a large table and sitting area, but it wouldn't give you that formal feel that some people like.
This is where the great debate begins: formal dining rooms, or kitchen nooks?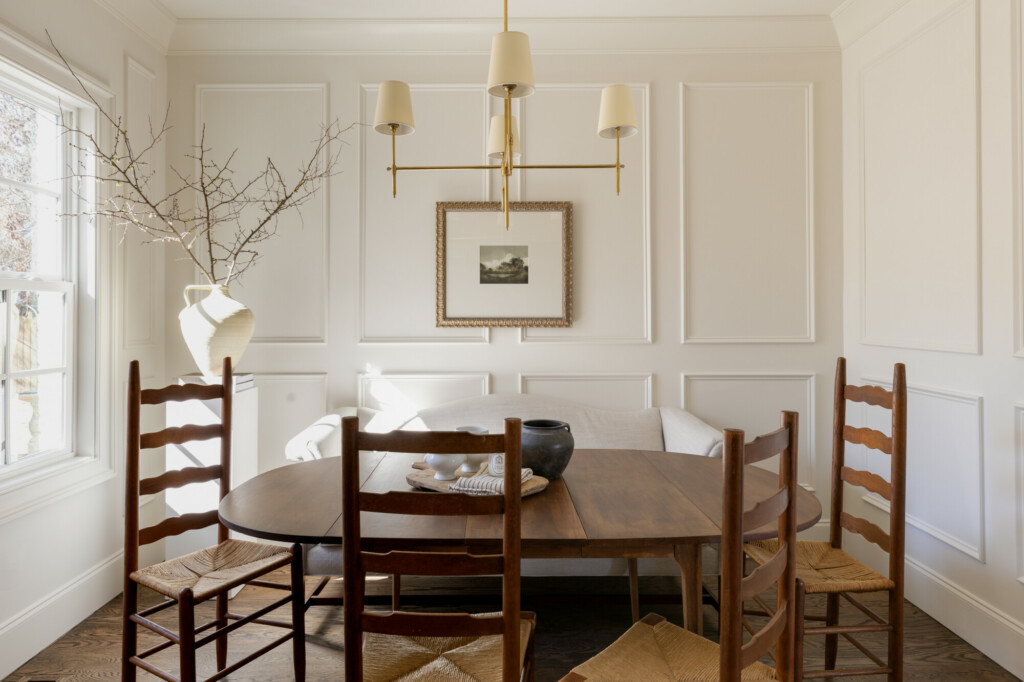 Now this isn't exactly a 'nook' in my opinion. The table pictured above is extended to 6 ft with room to spare so you could easily fit an 8-person table in here. But, it isn't a separate dining space and is instead, right off the kitchen so not exactly a formal dining room either. I guess we built a sort of hybrid at Haverford Manor. We have had formal dining rooms in both of our homes that we have lived in, and you want to know how many times we used both of them? Less than 10 times in 8 years. Now, I understand the appeal if you have family visit a lot or if you host a lot, but us? I'd love a 'nook' area.
I wanted this space to be an extension of the living room, and started gathering pieces over a year before this photo was taken. But, there were moments I panicked and didn't think it would work out. The hard part about flipping is that I'm not exactly styling and furnishing the house in the ideal way that I'd like to, or would with a client. I have to get pieces that I can resell or store easily, or maybe even borrow a few pieces from my own house.
CHAIRS: OAK NASHVILLE  |  TABLE: FB MARKETPLACE  |  PEDESTAL: CHAIRISH  |  VASE: GASLAMP TOO  |  SETTEE: FB MARKETPLACE  |  LIGHT: VISUAL COMFORT & CO.  |  ARTWORK: CUSTOM FRAMED PIECE BY HANNAH WINTERS
How would you feel if I told you almost every single pieces seen here was vintage, or repurposed? Aside from the light fixture and framed artwork, I got everything else either from a local vintage store, or revamped from Facebook Marketplace. The vase in particular was a last minute find from Gaslamp Too that I was thrilled (and relieved) to have to complete the space. Is this setup everyone's cup of tea? Probably not, but I wanted it to tell a story and have some character as well as show prospective buyers what a space like this could do!
In the last year or so pedestals have come into style as home accessories again, and there are some beautiful ones out there. I love it as an option to fill an empty corner or to bring in some height. This is just a standard white one you might have found in an art studio in the 90's, but I'm thinking about doing a DIY project soon to make it look a little more like a natural material like what is so popular today. You'll see burl, travertine, or maybe a natural wood that would be beautiful to add texture to a space. In this room with the trim and chairs, I went with plain white as not to add too many elements.
SHOP PEDESTALS

And don't get me started on this settee, which I currently have in my own home now! I actually had no intention for this when I first bought it off of FB Marketplace, but it was in amaaaaaazing shape and only $150… a six foot couch! So I got it reupholstered and now she belongs in a beautiful English sitting room. Or maybe a setup like this in a guest suite one day. And while I'm currently designing a proper kitchen nook, you unfortunately won't be able to see the finished product for another year or so. So in the meantime here are some pieces I found to fancy up your own eating area, whether it be a formal dining room for hosting holidays, or a small area for you and your partner to have coffee in the morning. I love both!