Formerly the primary bedroom, I decided to make this first-floor guest room special. And step one? The paint color.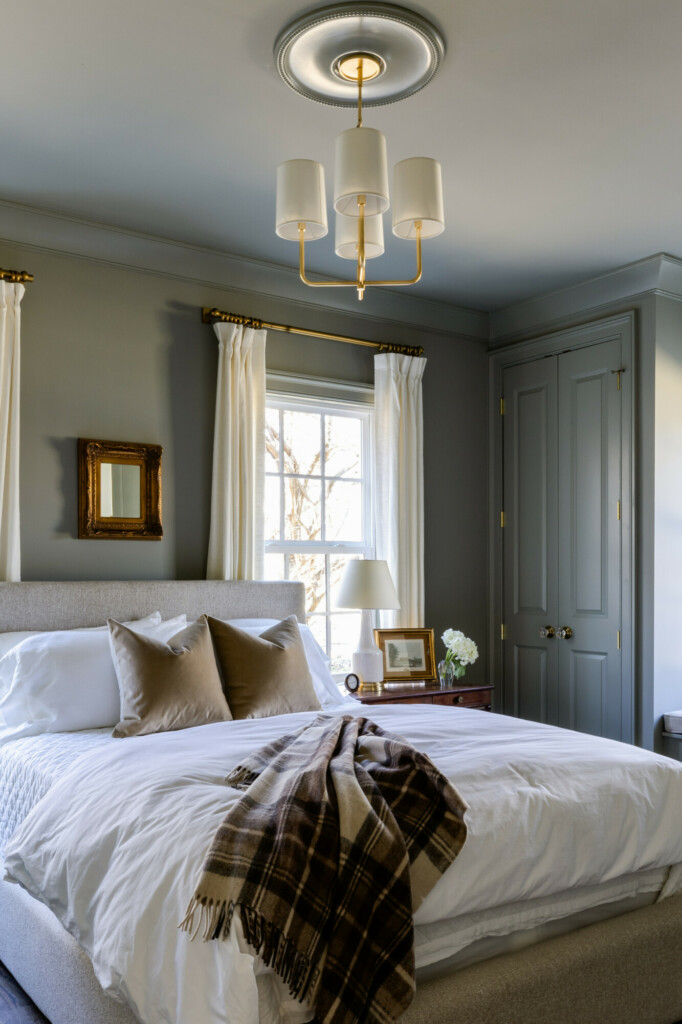 While this room didn't change in size at all, it feels sooooo much better in this layout. Originally, the closet was a build-out as soon as you walked into the door, so instead of the room you immediately saw a wall. We moved the closet to both sides of the window and a storage bench in between to keep that natural light. Plus, when we took the roof off we added a foot of ceiling height to the whole first floor making the clearance nine feet instead of eight. Big difference!
One of the struggles I had with the concept of flipping was the design portion. You've got to appeal to as many prospective buyers as possible while also making a name for your style. So this room I felt like needed to stand out a bit from the rest. So I made sure to pick a bold paint color, unique hardware and also pay homage to the original home with the medallion around the chandelier (we tried to keep the original but was too warped).
I think the final product was a great blend of standing out, but blending with the style of the rest of the house. And it made me fall in love with this paint color even more! Plus, it gave me a space to use this vintage accent table that I found as a nightstand like I always imagined it. So many vintage elements blended with new to make this room feel like it's been here for a minute.
But one piece that I love about this room and the whole house is the number of storage benches. We had three throughout the house to include as much storage as possible and to keep the windows open natural light. The first is in here on the first floor, and the other two are upstairs in the primary closet and the rec room. All great places for storage and all complete with custom Schumacher bench cushions.
Not a bad place to stay for a visitor. Actually, maybe so nice they'll want to stay longer… whoops. Below we're listing all of the good stuff!! All of the sources that I can, as well as the before picture. What do you think? A pretty good upgrade, huh?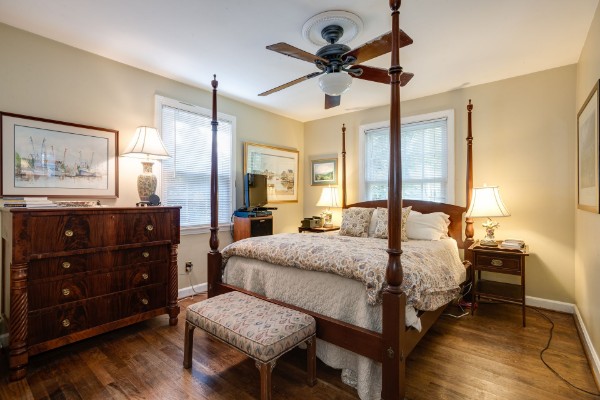 Paint c/o Farrow & Ball Pigeon
Medallion around chandelier
Chandelier, Bench Pendant, Nightstand Table Lamp c/o Visual Comfort & Co
Baroque Mirror c/o Chairish
Vintage nightstand c/o Patina & Co
Vintage Artwork c/o Winchester Antiques
Crystal Vase c/o Tuesday Made (use code MANOR10 for 10% off your order)
Velvet Throw Pillows c/o Jenn Stoffer Home
Drapery Hardware & Ivory Drapes
Door Hardware c/o Emtek